Yesterday, the Troy Polloi celebrated its First Birthday.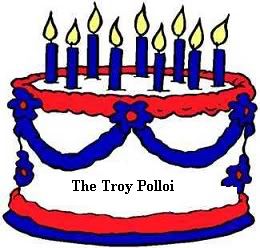 Thanks for all the cards, gifts and gift certificates to the Union Street Bed & Breakfast. Most of all, thanks to Bob Mirch. He knows why...wink, wink.
Here's an article that escaped our attention last week. It looks like Troy's Renaissance Prince hasn't been paying his
bills
. Lorenzo the Magnificent he ain't.
If you listen to Paul Vandenburgh, that's all well and good, we do too. However, the guy really is a tool. From the
Albany Eye
. Who's retarded here, Paul?