It's time for our very first Year in Review and Predictions post.
It's been a fantastic year. Subscriptions are up, we had to hire three new staff members and the police were only called three times to our Christmas Party. Here's our look at 2005 and some predictions for 2006.
January

The year started out with a great State of the City Speech by Mayor Harry. In the speech, Mayor Harry renewed his promise to fulfill the promises in his 2004 State of the City Speech. There was great rejoicing.
February
The groundbreaking, highly influential internet periodical The Troy Polloi debuts. The critics were unanimous:
"There are more than 20 million blogs. The Troy Polloi is one of them." -
Unanimous Critic
March
Carignan sues the City, Corporation Council Dave Mitchell calls City Chair Tom Casey a liar and The Troy Polloi receives it first mention in the Times Union.
April
Rob Gregor resigns, Mirch busted by vigilant cop and Young Sweeney is indicted. The best was the Rensselaer County Legislature passing a resolution to hire a Tourism Director. DeAngelis begins to implode, becoming about as stable as Regan McNeil.
May
Crawley utters his memorable line, "This is Bullshit" to express his frustration at not being allowed to interrupt Council President Marge DerGurahian. Judge leads veto override, Kenny Bruno's ex alleges he threatened her with a gun and Harry cuts funding for children, declaring "There shall be no more toymakers to the king!" Troy renamed Sombertown.
June
GOP exhumes Bill Pascarell and the Senate Majority leader proclaims that a grand hotel shall arise on the shores of the Hudson where City Hall now exists (a prediction also made by famed Astrologer Nostradamus more than four hundred years earlier). It will be called "The Joseph Bruno Motor Lodge" or "JoBroMoLo."
July
Patricia DeAngelis unanimously declared next Rensselaer County Court Judge by all pundits, including this one and Dewey beats Truman.
August
Democratus vacations on Cape Cod, extradited back to New York a few days later.
September
Harry embraces Guardian Angels, Red Beret stock soars. Crawley purchases miniature, autographed Notre Dame helmet for $100 but it doesn't fit. Mirch, caught in dark alley with bruised knees, admits to third public sector job.
October
Mirch rifles through City Hall furniture looking for spare change. "Rensselaer County District Attorneys Office Goes Wild" hits the shelves, staring Jen Sober & Trish DeAngelis. Immediate hit.
November
Armet, Judge, voted off the island. North Greenbush Republicans beat to a bloody pulp under political strategy genius Rich Crist.
December
Rensselaer County Legislature sodomizes residents with pay raise. There is a great wailing and gnashing of teeth.
January
Troy Polloi nominated for Pulitzer.
READERS DECIDE
OK, loyal readers, let us know the following:
1) The biggest story this year in local politics;
2) Your favorite Troy Polloi post;
3) Will Damon get the Yankees over the top;
4) Iz adolt illiteracy reely a problum;
5) Who's a better politician than human being;
6) Who's a better human being than politician.
PREDICTIONS

Let us know if you have any predictions for the next year. Ours:
1- After a visit from three Ghosts on December 24, DA Pat DeAngelis does some serious soul-searching and is radically transformed. Hence forth, she is known as Mother DeAngelis.
2- Troy Mayor Harry Tutunjian announces that DPW Commissioner Bob Mirch will also be the City liaison to Senate Majority Leader Joe Bruno's office as well as Troy liaison to the County Legislature. The two part-time jobs pay a combined $50,000.
3- With four contract negotiations on his plate, Harry saves money by ordering all police officers to use Segways rather than patrol cars.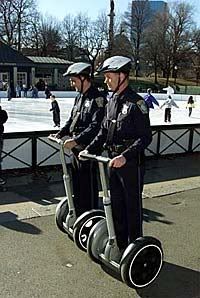 4- City Council President Hank Bauer decides to primary DeAngelis for the 2007 nomination for District Attorney. Mother DeAngelis forgives him.
5- An elite unit of Troy's finest formed to combat jay-walking. After training with Army Rangers, they hit the streets and jay-walking is a thing of the past (except during the Victorian Stroll).
Leave your predictions here.
Have a Happy New Year, stay safe.