HE'S BACK!
Steve Dworsky, the former Troy City Manager who presided during Troy's Golden Age, is back. This time, he's in North Greenbush. According to sources close to the TP, Dworsky has been retained by the new administration to.... We're not quite sure what he's doing. Let us hope things turn out better in North Greenbush than they did in Troy.
Perhaps Mr. Dworsky's presence explains
this
. We like to call it the New Year's Massacre of 2006. And the reviews are in:
"Wow, that's Old School!" - Al Capone
"I haven't seen a hit like that since Valentine's Day." - Albert Anastasia
It will be interesting to see how this plays out. Firing union members is usually as difficult as getting the Rensselaer County DA's office to turn over evidence. Yes, it's that difficult. We are increasingly dubious about the propriety of all these firings. Some, fine....eleven? Seems a bit steep to us. Theoretically, we say good riddance. To the victor belong the spoils. Still, the law must be followed. Speaking of the law...
In other North Greenbush news, the Mandel-Clemente saga continues. Attorney Josh Sabo had to run to court on Thursday. Seems Linda Mandel-Clemente brought an Order to Show Cause against the town (maybe she previously lost the Order to Show Cause and it was somewhere in those files). We're not sure what it was all about. Possibly her ouster from the Planning Board. Perhaps something to do with her defilement of the town. As Drudge would say, developing.
THE DISTRICT ATTORNEYS OFFICE BACK IN THE NEWS
For a minute, we thought this was a 'Year in Review' story. Nothing new here. Some old crap. It would be interesting to know if the DA's office had the evidence before or after DeAngelis gave up the case. Unfit to be judge, unfit to be DA. The big question: Will Uncle Joe find her a job before he leaves us or is she on her own?
Michele Bolton
is on the case.
CB IN THE NEWS
Along with Dworsky, CB Smith has landed a job in
North Greenbush
. This may be the most interesting town in a most interesting county, politically speaking. We can't wait to see what happens.
WITH KELLEHER AROUND, DON'T FORGET YOUR HIP WADERS
From Kate Perry
. Our favorite line: St. Neil hopes to form a committee in the next few months. A committee? In the next few months? We would never challenge the efficiency of a government committee, but why a few months? What, you busy or something? Why not just charge people for speaking at a meeting? Maybe raise some revenue to off-set the raise? So pathetic and no one cares.
USS SLATER
The USS Slater caught fire. Our photographer was there.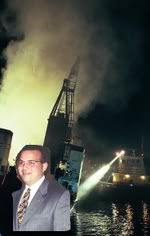 Hey, who is that?