CORPORAL -IT'S NOT JUST FOR RADAR AND KLINGER ANYMORE
It's not often we get to write about Troy's fine police force. Unlike some of their local brethren, the Troy Police are generally a good lot: able and professional.
We recently learned that our police department will soon be adding the rank of........(drum roll)...Corporal! That's right, we'll have corporals. Or, at the very least, a corporal. They had considered creating a First Mate position but no one wanted to wear the nekerchief.
Of course, we immediately thought of the M*A*S*H episode when Hawkeye created the rank of Corporal-Captain so Radar could obtain entrance to the Officer's Club.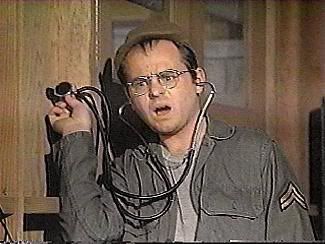 "Captain's bars and Corporal's stripes-No I don't
like it. Not one bit!"
No one knows who the first Corporal of the Troy Police Department will be. There is a complex civil service formula that takes a variety of factors into consideration. Luckily, we just happen to have a copy of that formula.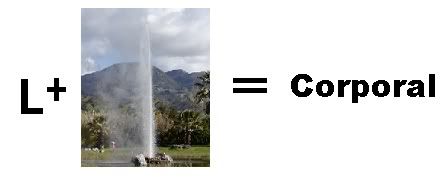 Who gets the stripes is anyone's guess but being able to run errands is considered a plus.
Proposed uniform for Troy PD's newest rank
Discussions are also underway to creat the rank of Field Marshall.
AREA LAW ENFORCEMENT OFFICER IN HOT WATER?
We won't mention which department but lets just say the initials are Troy Police Department.
Seems there was a break-in at the home of an officer recently. The Rensselaer County Sheriff's Department handled the investigation. Some guns and credit cards were taken. The perps were apprehended and the booty was returned. One problem: the guns had been altered. There was at least one shot gun that had morphed into a sawed-off shotgun and the serial numbers on several weapons had been erased. Altering firearms is a Federal Offense.
It could be serious. No, not as serious as having a bike without a horn, but serious nontheless.